Steven Crawford
Hi my name is Steven Crawford I am the owner of Edinburgh Stone Repair Ltd. I am a qualified stonemason and rope access technician and a member of Stonehealth which specialise in Stone Cleaning. I am a member of EDINBURGH Trusted Trader Scheme and have been on various course with SCOTTISH LIME CENTRE. I did my apprenticeship at Telford College back in 2007 and was a apprentice at Forth Stone after getting valuable years as a tradesman I went to work with a height company where I did my irate level 1 rope technician course Enabling me to carry out Stonemasonry work using rope access techniques to carry out repointing, stone repairs and gutter repairs.

In 2019 I started up Edinburgh Stone Repair Ltd where we do all aspects of Stonemasonry our. Duties include: Replacing damaged stone and carving them to match original. Stripping dangerous chimneys and rebuilding with lime mortar and repointing in traditional lime mortar. I carry out various types of work when using rope access my duties include: Inspections, Repointing, Sand Mastic, Roofing, Painting and Gutter and Rain Water Repairs.

I am regularly on courses at the Scottish lime centre where I have just recently finished my SVQ6 on producing a report that allows me to write up reports when doing my rope access inspections on the remedial work that needs to be addressed.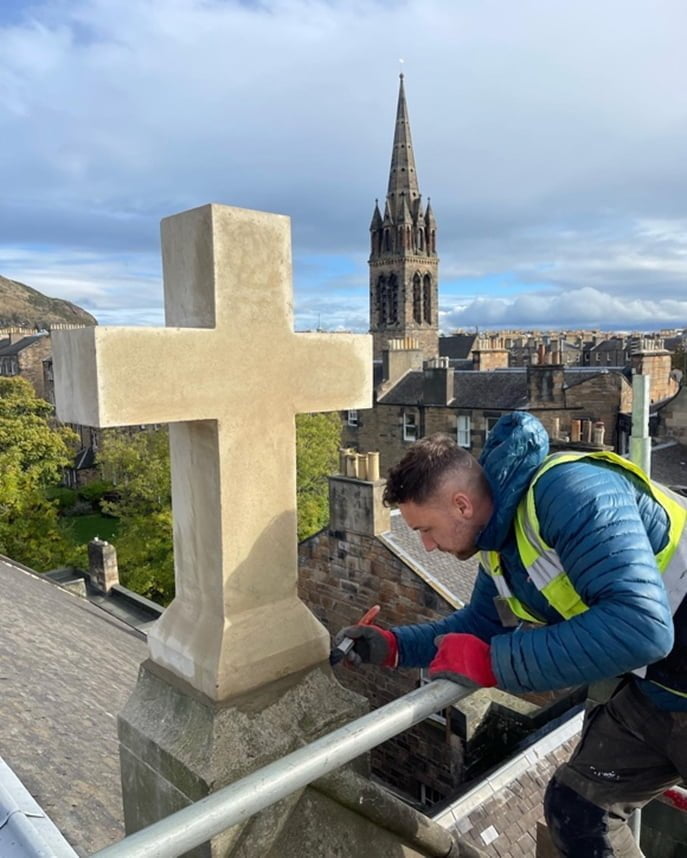 What We Do
Rope Access: We use rope access techniques which involves rigging up ropes to two safe anchors on roof and abseiling down building to carry out stone repairs or repointing works.


Stonemasonry: We carry out all aspects of Stonemasonry duties include cutting out defective masonry and replacing matching original.

Repointing: We carry out repointing in NHL & HL Lime mortars on stone building throughout Edinburgh.


Stone Cleaning: We use special stone cleaning equipment the Doff system which is a low pressure superheated water system that gently removes moss, algae, paint and many more.
Our Services
We carry out stone repairs on traditional buildings by cutting out defected stones and crafting them to match the original shape and mould using the traditional materials to preserve and maintain the buildings.
We also use Rope Access and Cherry pickers to carry out maintenance repairs and inspections to safe the cost of scaffolding.
General Qualifications
At Edinburgh Stone Repair we pride ourselves on our dexterity and by building individual working relationships with our clients, whilst delivering a consistently holding a high high standard of work. All of our staff are have attended Scottish Lime Centre courses making us experts in using lime mortar and have been trained at Dalkeith Townscape Heritage Initiative (THI) AND Conservation Area Regeneration Scheme (CARS). We are trusted traders with Edinburgh Trusted Trader and are fully vetted, and all our staff are fully trained by Stonehealth using Doff and Torc stone cleaning machines enabling us to carry out cleaning to listed buildings through out the UK.